York Wheels Ltd is managed by a Board with representatives from City of York Council, staff, volunteers and customers so that all sections of the organisation can bring their experience to bear. All are Trustees of the Charity.
Our Charity Number is 1096926 – please click here for further information. Our VAT Registration Number is 100 2702 89.
York Wheels currently employs an Office Manager, 3 part time administration assistants and 3 mini bus driver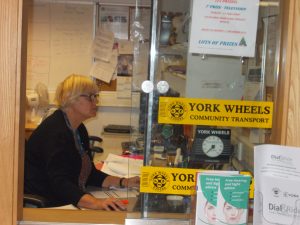 s.
Our team
Trustees
Rob Atkinson (Chairman)
Ian Bainbridge (Treasurer)
Janet Turpin (Secretary)
Dave Turpin (Trustee)
Richard Carberry (Trustee)
Steve Mortimer (Trustee)
Nigel Rhodes (Trustee)
Sean Lavery (Wheels Customer Representative)
Tracy Flannery (D&R Staff Representative)
Cllr Sophie Kelly (York City Council Representative)
Company secretary
Office Manager
Administration assistants
Shiela Smith
Emma Sheppeard
Tracy Flannery