All our drivers are volunteers who use their own cars to provide a door to door car service for elderly people or people with a mobility problem and cannot access public transport. Our office is situated in York Hospital.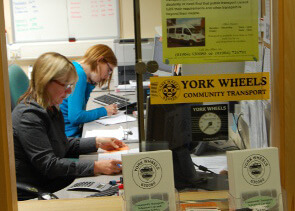 All cars must be prebooked at least a day in advance but we do get very busy at certain times of the day, so please book your car as soon as you know what you want to do.
Payment is taken by credit or debit card at time of booking
NO JOURNEY IS BOOKED UNTIL PAYMENT IS CONFIRMED.
REFUNDS:   Refunds can be arranged if the journey is cancelled – however, as this will cost the charity 50p we would be grateful if you would allow us to 'roll over' the payment to use against your next journey.
The fare is worked out on mileage travelled to cover the cost of the volunteers expenses.